Q.

How Long Has the Online Registration Center Provided Registration Management Services?

A.

The Online Registration Center has been providing registration management services to companies, large and small, nationally and internationally, since 1996.



Q.

Do I Have to install software on my PC or MAC to use the Online Registration Center?

A.

No. Our Event Registration Service is a Turn-Key Web-Based
Registration Solution. All that is needed to access and manage
your acount is a web browser and internet access.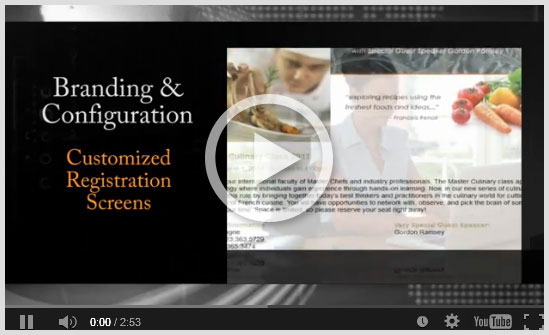 Q.

What is the Level of Reliability That I Can Expect From the Online Registration Center Service?

A.

One of the benefits of using our Online Event Registration Solution is the Built-in Security and Network Redundancy That is Provided. Our network utilizes Redundant Internet Routes and Redundant Load Balanced Database Servers, providing a level of Data Security and Network Reliability that is unmatched in our industry. Our Environmentally Controlled Data Centers, 24/7 Performance Monitoring and Security and Emergency Power Generators help ensure that your event registration pages are available to your customers around the clock.



Q.

Do you offer Check-in and Attendance Tracking Tools?

A.

Yes. We have integrated Positive Proximity's Session Tracking Solutions to provide check-in tools and active attendance tracking. State of the art attendance monitoring and detailed dwell time reporting are all directly integrated into your registration processes, making the Online Registration Center the most robust registration platform available.



Q.

Security is a concern, What Audited Security Credentials does the Online Registration Center have and keep updated?

A.


Security is always crucial to online systems. The Online Registration Center is Safeguarded by our SAS-70 Type II Certified/SSAE Data Centers, and Our PCI® DSS Compliant (Payment Card Industry Data Security Standard) Servers That are scanned and certified daily. These certifications are critical when it comes to protecting your Customers' Data, Financial Information, and the Reputation of Your Business and ours. The ORC meets the security controls and assurance requirement in NIST Special Publication 800-53 & Recommended Security Controls for Federal Information Systems Publication 800-171. General Data Protection Regulation (GDPR): EU/Swiss Privacy Shield Certified.

Q.

What Payment Options will I be able to offer my customers on our Registration pages?

A.

Our Event Registration Software allows you to set the Payment Methods you want to offer on an Event-by-Event Basis. You will be able to Offer Credit Card, Purchase Order, Invoice, PayPal, e-Check, and even Custom Payment Methods.

The System also supports Multiple Payment Gateways if needed, allowing you to process funds separately on an event-by-event basis.



Q.

Can the Registration System Support Multiple Registrations under a Single Payment?

A.

Yes. The Online Registration Center allows customers to submit Multiple Registrations and pay at the end with a Single Payment.



Q.

Can I Secure Individual Administrative Functions within the Maintenance Section of the Online Registration Center?

A.

Yes. The Online Registration Center will Provide You with the Ability to Create Sub-Accounts Under Your Primary Account. In addition, You Will Have the Ability to Establish Multiple Levels of Access (edit abilities, read-only, reporting only, etc.) to the Administrative Features on a User-by-user Basis.



Q.

Can I make the Online Registration Center's Registration Pages look like our Website?

A.

Yes. The Online Registration Center provides Branding Tools to integrate your own look and feel into your Registration Pages and Event Lists.



Q.

Will the Online Registration Center track customer registration activity and history?

A.

Yes. The Online Registration Center will collect and report on all customer registration and payment data. Login and profile reporting features are also made available to your customers. These facilities also make it possible for the system to pre-populate the registration fields when your customer returns to register for events in the future.



Q.

What is the turnaround time to have our account live once we establish an Online Registration Center account?

A.

Your account can be active, and processing registrations, in as little as 1-2 business days!



Q.

Who Do I Contact for a Demo or to Establish an Account?

A.

Call us at (800) 265-9141 / (804) 755-4885, or Email, and a Sales Representative will contact you right away.


Request a Personal Demonstration & Free Evaluation Account Now!